lettuce
...now browsing by tag
Saturday, November 21st, 2015
Late planting of EB3, trying spinace in one row, kohlrabi in other row.  Planted 11/21/15.
Monday, October 12th, 2015
Just planted lettuce, 10/12/15.  Earthbox 1: Red Sails on top row (row w/o water spout), Black Seeded Simpson on bottom row (with water spout).  Earthbox 2: Little Gem on top row (sans water spout), Lollo Rosa on bottom row (with water spout).  Lollo Rosa seeds too old I guess, some never sprouted, had to plant red sail in the bottom row middle two spots in EB2 (11/8/15).  Planted one cilantro 11/21 in EB2 where red sail never came up.
Wednesday, October 20th, 2010
Lettuce sprouting in Earthbox three days after planting the seeds.
Sunday, October 17th, 2010
Redid EB1 (Earthbox One) with all fresh potting mix, 1lb dolomite, 3c organice fertilizer (2c GardenTone, then ran out and used 1c other organic I had). Planted 6 Black Seeded Simpsons, 2 Lollo Rossas.
Saturday, March 27th, 2010
Harvested the last of the Earthbox lettuce and replaced it with peppers. Will be the first try with peppers in an Earthbox. Here's the setup: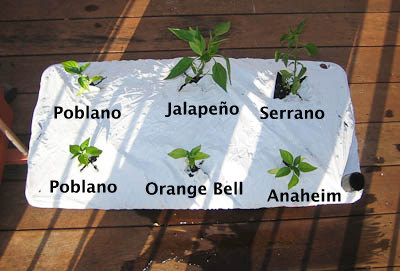 The lettuce was a success. I found the Black Seeded Simpson to be the best producer. The Lollo Rossa was good, but produced much less than the others. The Salad Bowl was a good producer, but the leaf form is not as full as Black Seeded Simpson. Next go round I'll probably plant mostly Black Seeded Simpson with a couple of Lollo Rossa for variety. Love the color of the Lollo Rossa.